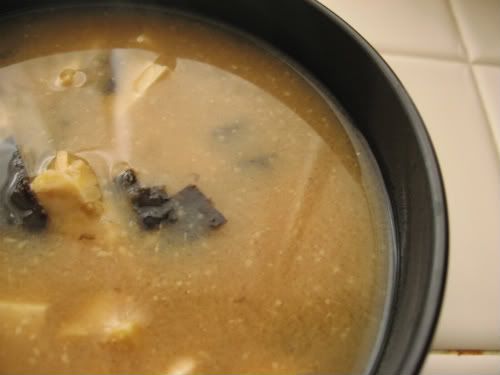 I never really got into having Miso soup until I started making it myself. I played around with a bunch of different recipes. Some I liked, some I didn't. Eventually I found what I liked. I like cubes of super firm tofu and tempeh in my miso. This was perfect when it was really gloomy here in Vegas last week.

-4 Cups Water
-3-4 tbsp Miso Paste
-1 sheet Nori (cut into small squares)
-1/2 block Super Firm Tofu (I used Wild Wood brand)
-1/2 block Tempeh
-2-3 cloves fresh garlic or 1/2 tbsp garlic powder
-1 stalk green onion (optional)
Bring the water to boil and add miso paste. Allow the paste to fully dissolve into the water. When broth is ready add tofu, garlic, tempeh and nori. allow to simmer on medium heat for about 10 minutes to allow tofu and tempeh to soak up the flavors of the broth. Add optional green inion last after you turn off the soup.