When I was grocery shopping the other night I had a crazy craving for pizza. I don't eat pizza too often. Lately I have been wanting it like crazy (That's what she said... Damnit Andrew) I didn't make the crust myself, I bought a vegan safe one.

From the Bottom up:
-Pizza sauce
-Mushroom sauce (1 mushroom bullion cube + 1 cup soymilk cooked/whisked until condensed.)
-Tofu Crumbles (tofu crumbled n cooked until all water evaporated, add 1tbsp margarine, 1 tbsp ground flax seeds and 1 tbsp nutritional yeast dash garlic powder.)
-Mushrooms tossed in Olive Oil
-Green Onions



Pre-cooked Pizza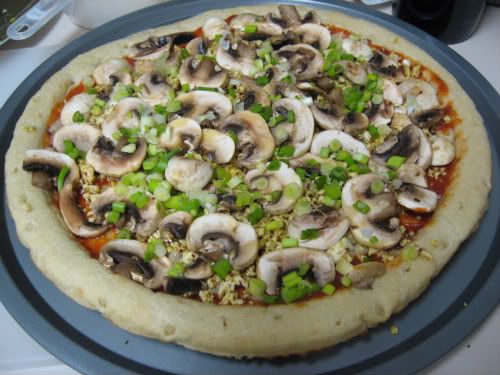 Pre-cooked up close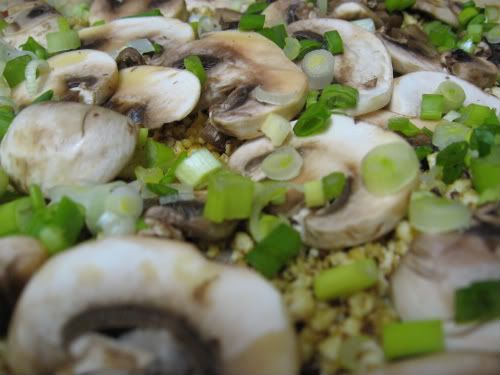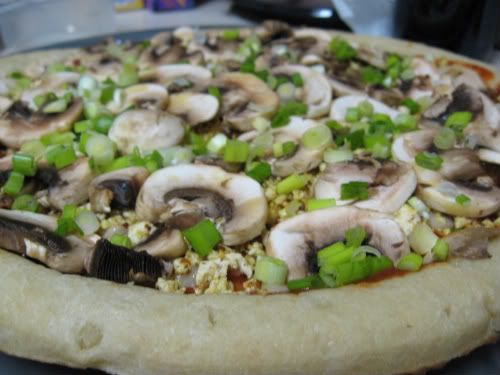 Out of the oven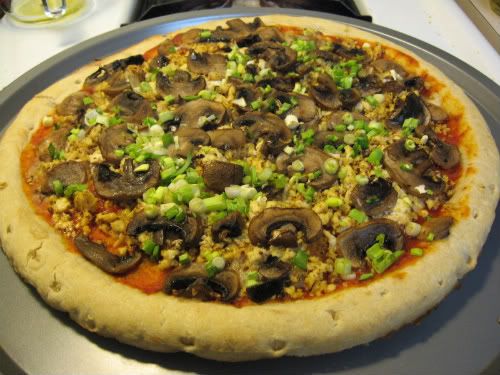 Out of the oven up close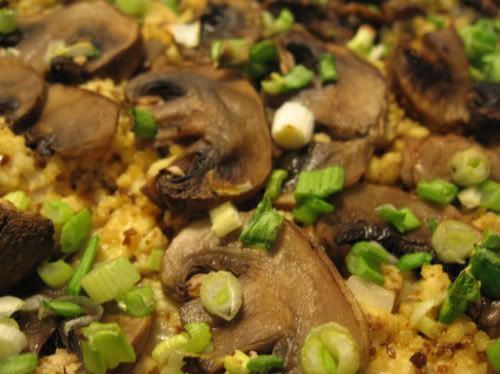 SLICES!!!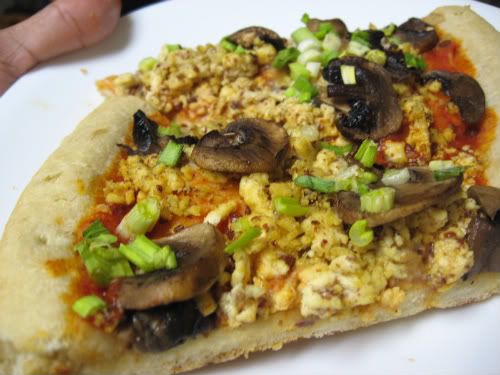 It tasted too good. I will probably make another one really soon. I had this for dinner last night, lunch today and then some more! But tonight's dinner made me even happier:





BBQ Seitan on a Bagel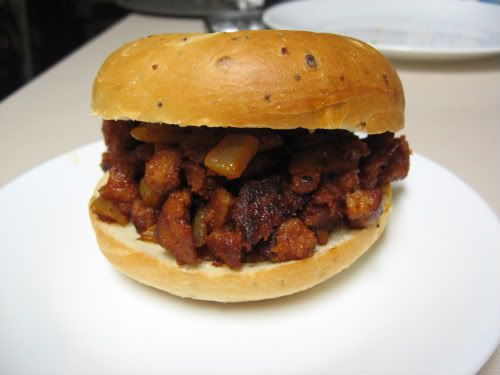 Yea, all I had was bagels or English muffins. I told myself I will not buy any more breads until I finish the ones that I have. I also wasn't very big on Seitan. I am now happy with it. I made the Simple Seitan from Veganomicon and let the seitan refrigerate in the broth for 2 days before I used it. It is sooooooo tasty! I sliced it up into small pieces and dry cooked them in a pan to get all the liquid out of them. Then I tossed in 1 tbsp olive oil and 1/2 cup chopped onion and let the seitan get crispy and the onions cook. When they were nicely browned and crispy I threw in 1 tbsp tomato paste (for kick), 1 tbsp water (to loosen up the tomato paste) and 1 tbsp of my favorite bbq sauce. Stirred and added 1/2 tsp garlic powder.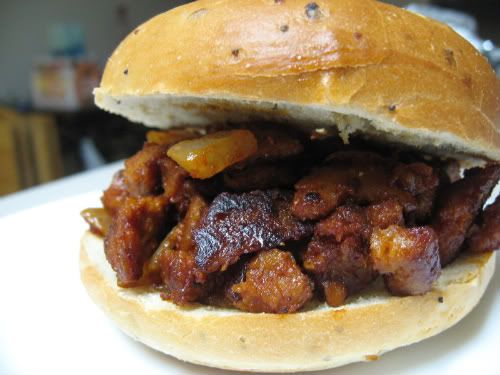 My meat eater roommate tried it and said it was very good. I agree!!! Next time I'll have it on something easier to chew than a bagel, lol. Tasted good on it though!