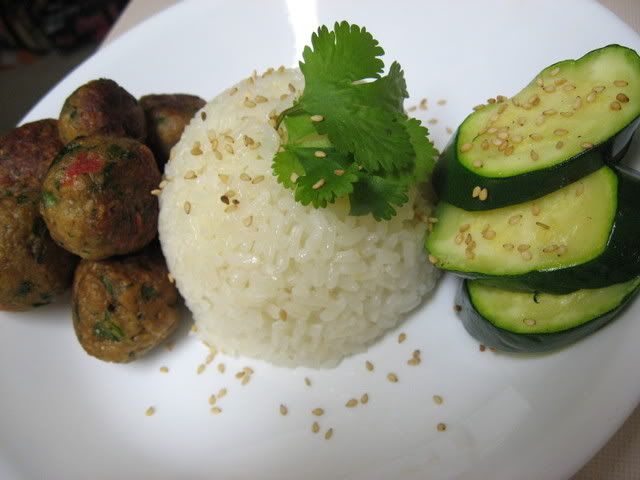 I had an amazing morning. I woke up, Joelle came over to hang out and we went to Whole Foods. I honestly wish my side of town had a cheaper vegan friendly grocery store, but for now when I HAVE to get something there I will. Today I was going because I was out of Nutritional Yeast and Vegenaise. When we approached the front door I see a sign that said a vegan chef was going to be there from 11 am-2 pm in the store and she would be cooking for customers.
I WAS SO EXCITED! But, I didn't have my camera with me. That I hated myself for. I had no idea she was going to be there though so I shouldn't be so hard on myself. Her name is Antoinette Stanton and she owns a vegan catering business here in Las Vegas. Aside from Vegan and Vegetarian cooking she also conducts Vegan/Vegetarian food preperation for Whole Foods, Williams Sonoma (as well as many other places) , workshops, demonstrations and lectures about the benefits of a vegan lifestyle. I have to say, this lady was THE BEST! Great personality, funny, and very real.
Today she was making Super Bowl food. Now, I'm not a sport lover so I couldn't care less about the Super Bowl (no offense to sports lovers) BUT, if what she served today was at a Super Bowl party I'd totally be there. She made meatballs with ground beef style Gimme Lean. I'm not a big mock meat person but I watched her make these and ate some. They were incredible. I didn't get a recipe from her, but she did tell me what she used and it was extremely simple. She also made a blackberry sauce to smother them in.
I really wanted to try to make some of these on my own to see how they would come out. They didn't come out as good as hers but I swear It was the best dinner I've had all month. I made them based on what I had available. Antoinette had me beat, I must admit.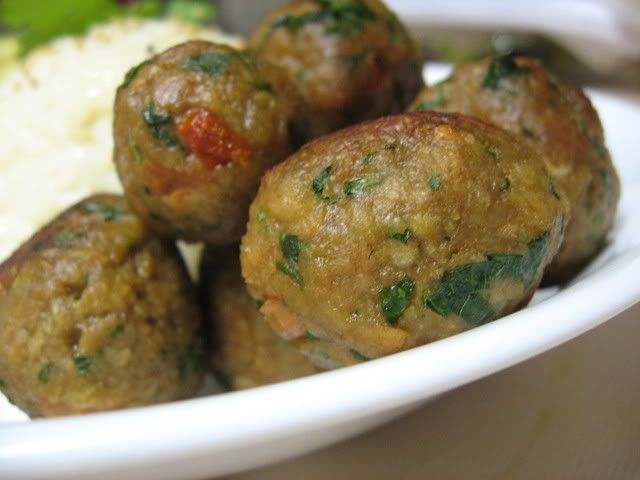 -1 Pkg Ground Beef Style Gimme Lean (14 oz, I believe)
-1 cup breadcrumbs
-1 cup minced cilantro
-1 stalk minced green onion
-1 tsp garlic powder
-1 roma tomato (or equivalent of) minced as small as you can get it
-1 tbsp nutritional yeast
-2-3 tbsp water
-olive oil for frying
Empty package of gimme lean into a large bowl and add ingredients except the water. Mix together well. It's best if you just use your hands, the mixture will be thick. Add water 1 tbsp at a time until you reach the right consistency you want to work with. make sure the mixture is firm enough to hold it's shape but soft enough so it cooks properly.
Heat your pan, add a small amount of olive oil, roll your balls and throw them in to cook. Smaller sized meatballs cook better and have a nicer texture on the inside.
Thank you Antoinette. It was so very nice to have met you and talk to you. It was also nice to finally have met another vegan that is African American!
YAY! I'M NOT THE ONLY ONE!!!