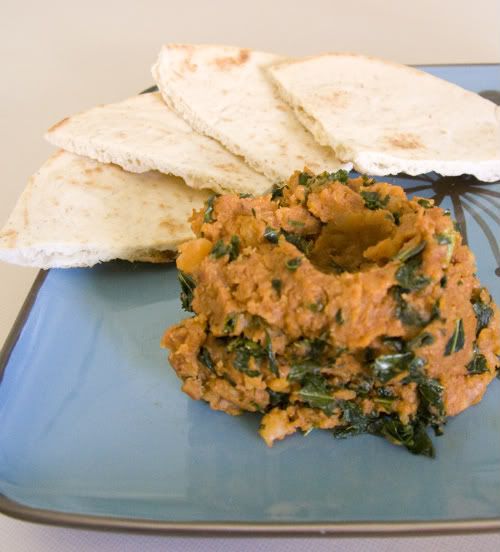 These were so easy it was insane! I actually had never eaten soyrizo (soy chorizo) before. Even back when I was a meat eater I never had chorizo. I wasn't sure what to expect with soyrizo, but if
Kim (The Vegan Mouse)
liked to cook with it I was sure it would taste great. I opened the package and gave it a little taste and sure enough... it was amazing!

1 Large potato of choice. ( I used a red potato.)

2 cups of chopped kale
1 cup of cilantro leaves (no stems)
1 tbsp olive oil
2-3 tsp water
dash of salt
dash of garlic powder
1 soy chorizo link
First boil your potatoes. While they are cooking chop up your kale and prepare your cilantro. (I took the stems off but if you don't like to that's fine, just chop them up well) In a pan, cook your kale with 1 tbsp olive oil and add a few tsp of water to soften them up. when the kale wilts add the cilantro and mix well. When potatoes are finishes mash them, but not fully. A few mashes should do fine. Chunky potatoes rock. add the kale mixture and mix together well.
In a small separate pan take a dash of olive oil and cut open your chorizo link and add it to the pan mix it around until its evenly heated and add it to your potatoes.Ad your salt and garlic powder for taste. (not too much, don't overpower the wonderful chorizo's flavors!) Mix well and there you have it!
I had some of these today and I was very grateful that I took the chance on chorizo.