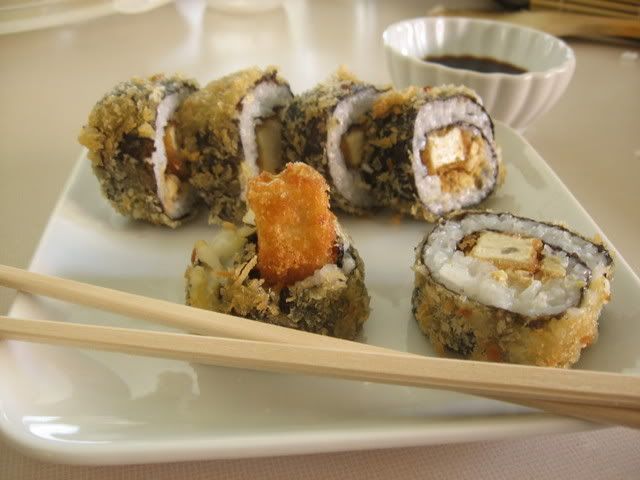 Fried Tofu and and Semi-Spicy Tempeh roll



I am fully aware that I have blogged about sushi making before. I love it. When I ate fish I couldn't get enough of it. Now that I am vegan I am finding out new ways to make it. I know this sounds strange to hear a vegan say but I don't have many vegetables in the house right now (waiting for pay day) so I decided to fry strips of tofu in a batter and panko crumbs to use inside the sushi. I also added Tempeh that I crumbled, cooked and spiced up! Then... I did something horrible. I rolled the entire sushi roll in batter and panky and friend that too. Honestly, I need to kick this frying thing I go through once a week.

I must say... these were the best rolls I have made yet. I don't think me explaining rolling sushi to you would be helpful. It's best to watch someone do it. So, like my first sushi post I am going to send you on over to the

PPK EPISODE

(episode 1) that helped me make these. They made different rolls than I did but experimenting is the most fun part!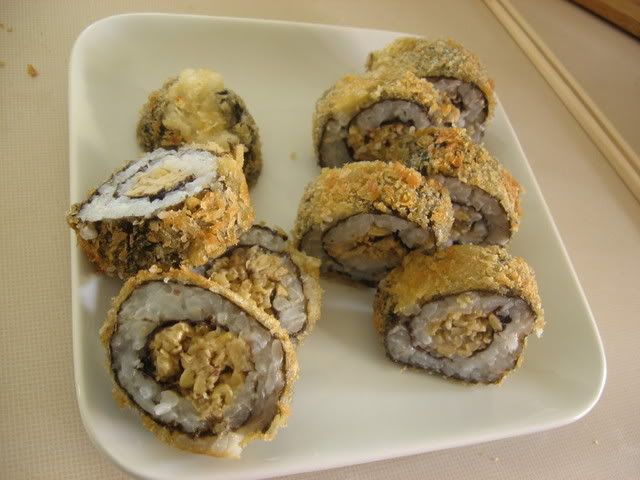 Semi-Spicy Tempeh Roll



TO ALL OF MY FRIENDS IN VEGAS:

Sushi night at my house will be happening soon. Be prepared. It will be amazing. Lets get this planned!!!