Front: Scrambled Tofu, Behind: Salsa Variation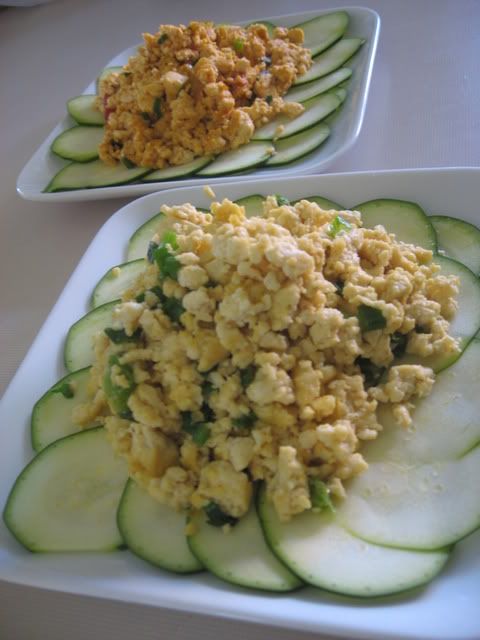 When I first became an herbivore I decided to try tofu. My mom ate it all the time when I was growing up but I never liked it. She also use to eat it by the scoop right out of the container and that really grossed me out as a kid. At first when I started cooking it I didn't like it but I later realized that I wasn't making it properly and that is why it was so tasteless. I have learned to love tofu like most vegan and vegetarians. GO TOFU!!!!!
Simple Scrambled Tofu

1 container extra firm tofu (crumbled)
1-2 tbsp nutritional yeast
1-2 teaspoons salt
1 tbsp olive oil
few cloves of garlic OR garlic powder
3 stalks green onion chopped
OPTIONAL: few scoops of your favorite salsa


Heat a medium sized skillet to med heat. If using fresh garlic you ant to use 1tbsp olive oil and cook your garlic first. If not add your tofu directly to an non oiled pan. Cook the tofu on medium to medium high heat and stir once every 30 seconds or so. The thing is you want your tofu to be drained of most of its wetness. Once the tofu is dry lower heat. add 1tbsp olive oil and mix thoroughly. Add nutritional yeast, salt, and the chopped green onion. Mix until all is blended. If adding optional salsa add last and mix well.

This tasted really good with my German Sunflower seed bread. If you want to add margarine instead of the olive oil feel free.