It is been way too long since I last blogged. For that, I apologize. At this moment I do not have any recipes for you but I do have pictures of a few things I've been eating lately.
For new years this year I spent it in California with my good friend, and fellow vegan, Andrew. Many many good times. While I was there he took me to a Japanese joint that was absolutely awesome called Kabuki. It really was adorable. When you look at the menu there is a tiny broccoli florette next to all the vegetarian options. I didn't take any pictures during my trip which makes me a bad person. BUT! I do have to thank Andrew because I hadn't had great sushi like that since becoming Vegan. Ever since I have been on a make sushi/go have it for lunch kick. If I could afford it I would go out for sushi every day! Since I am not able to do so, I make my own at home.
Teriyaki Tofu Rolls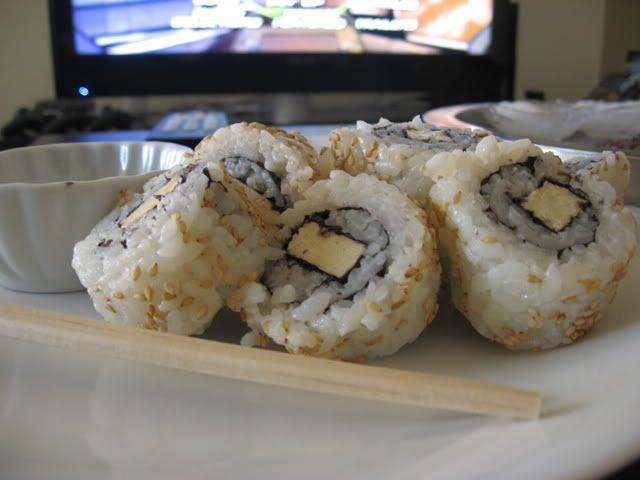 I made these while watching a good ol' Cowboy Bebop Marathon. Pretty good rolling skills, right? All I had was nori, sesame seeds, rice and tofu I marinated in teriyaki sauce, water, green onions and pepper.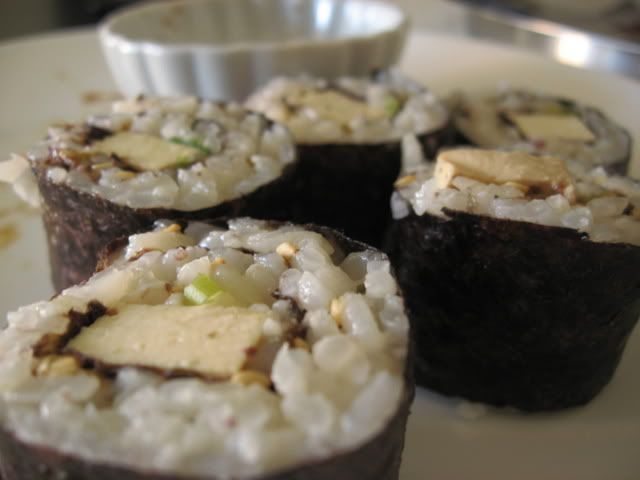 I ate the first roll and one just didn't seem enough. SO! I made another. They came out much uglier, but even tastier because I threw the green onions from the teriyaki marinade on the roll.
Tofu/Polenta Stacks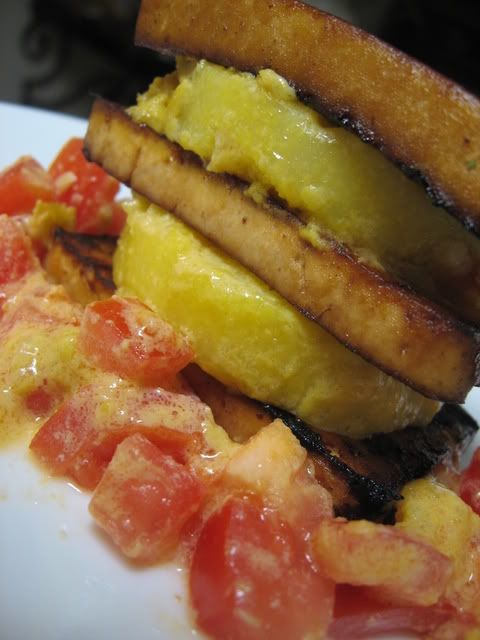 Yea... these were pretty much amazing. I cooked up a few slices of Wild Wood Tofu (super firm... Best tofu I have ever had in my entire life...) with some teriyaki sauce and a very small amount of margarine. For the polenta and tomatoes I used a small amount of margarine, nutritional yeast, salt and soymilk. this was extremely tasty. I was very happy I put this one together. I didn't really put a recipe together for this one but you can pretty much just throw it together fairly easily.

Hopefully I will be able to stay on top of my blogging. But!!! This is my last year of college so I will be working a lot on projects and doing a lot of filming. I will do my best.