CAUTION:
Not the best pictures because I was HUNGRY! But, they're very good eats.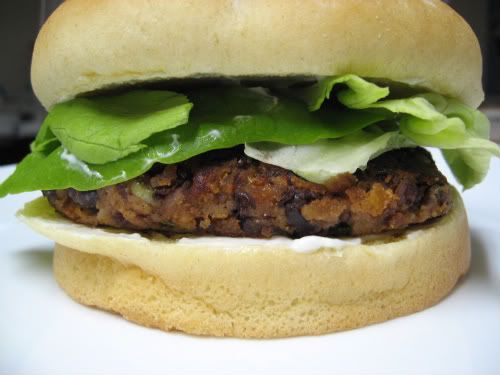 These were quite good! I la-la-la-looooove black beans. I always have black beans on hand. Probably one of my favorite foods of all time. They're so versatile! I have toyed around with making black bean burgers for some time and I think I have it down! You don't even really need condiments with this recipe. Maybe a little Vegenaise on the bun. Of course tomato and lettuce goes perfectly. A food processor comes in VERY handy for this recipe. I've tried it without and it just didn't come out right.

You'll Need:
1 regular sized can of black beans
2 slices of bread (potato bread works great with this)
3 stalks chopped green onion
3 cloves minced garlic or 1 tsp garlic powder
1 tsp sea salt
1 - 1.5 tbsp of your favorite BBQ sauce

First drain and rinse your black beand and put them into the food processor. you want to chop your beans but not too much. Leave some beans whole and be sure not to over chop. Put your beans into a large bowl. Then take your 2 slices of bread and tear them into pieces and blend them into crumbs. Add the bread to the bowl. Now hand chop your onions and toss them into the bowl. mix the contents loosly, don't squish the beans. You want the mixture to look crumbly. Get your hands in there and mix well. Now add your garlic, salt and bbq sauce and mix again, making sure not to squish the mixture. The bbq sauce with make the patties stick together. Fry them up with a little olive oil and you're good to go.

I have never made these baked so I am not sure how they'd come out baked. Probably just as amazing! I am sure there are other bean burger recipes out there that involve a lot more time and effort, but these are quick, simple and very tasty.