Yeah, I know. Most people celebrate their 100th post, but screw all that. I'm proud that I have made it to my 50th post! I'm also ecstatic that I have almost 50 followers! I am very glad that you all have me in your thoughts. I hope I have added you all to my list of who I follow as well.
I figured since it was my 50th post I'd make it a big one! So let's get going! Sorry, there aren't any recipes in this particular post.
Last week I had some Tofurkey deli slices left and had myself a sandwich. Not a huge, wonderful sandwich, just a plain sandwich. It was good, not spectacular, but good. However, I wanted to jazz up the Vegenaise so I made a Spicy cilantro garlic spread. I mixed together crushed garlic, cilantro, Tabasco and Vegenaise. I'm not going to lie, it was just okay. It kinda had a funny taste to it, but the sandwich was still good.
Spicy Cilantro Garlic spread: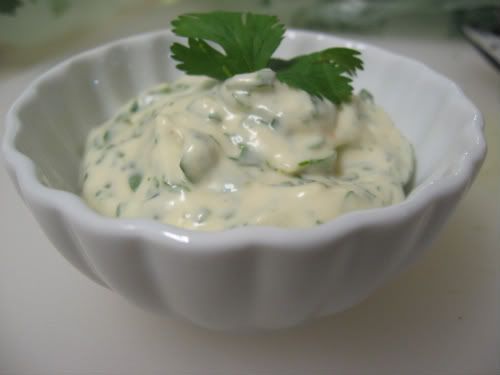 On the bread: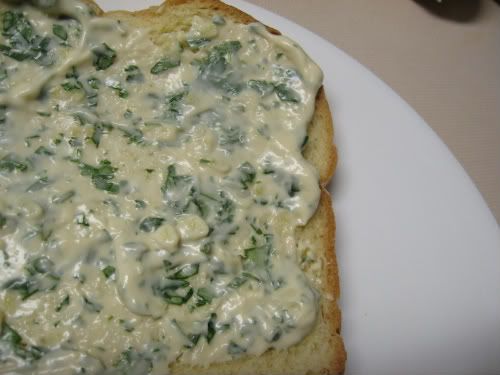 Just the deli slices, lettuce and the cilantro spread. I think what made my lunch better was the Three Bean Salad I had with it. The recipe is posted

HERE

in a previous post.


MmMmMm... Bean salad: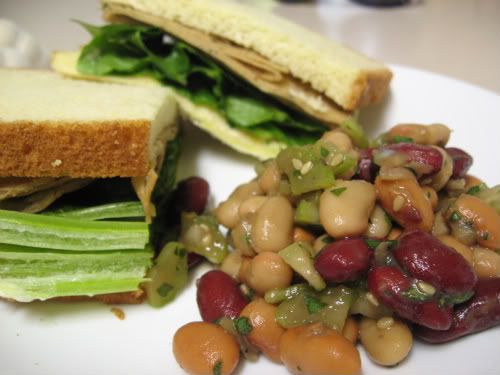 Tofurkey Sandwich: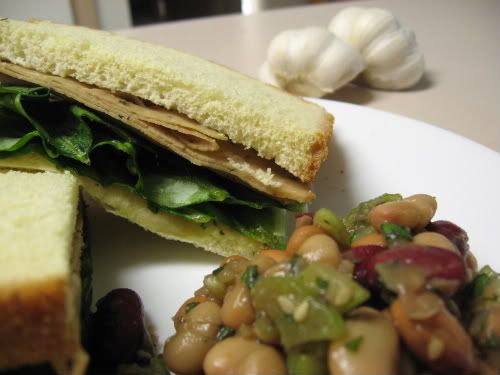 A friend that I work with decided to move to Oakland, CA. This made me sad. What's even worse is none of the managers at my job gave him anything! No going away cake, no card, no we'll miss you... NOTHING! Shows how much they care about us. No one did anything for him and I thought that was kind of sad. Since I knew this was going to happen I planned to make him a whole cake just for him and his girlfriend Tonya to share. I'll miss you Allen!
Coconut Lemon Bundt cake from Veganomicon.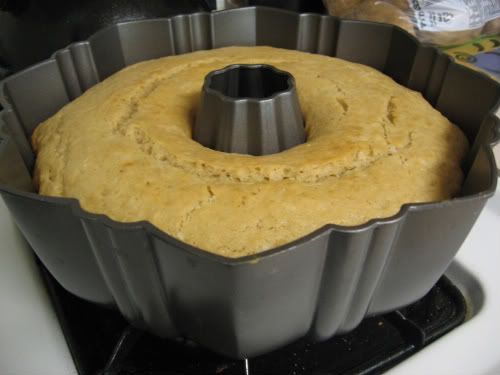 He had tried a slice of this cake when I took it to one of my good friend

Joey's

shindigs. He loved everything about the cake and asked me many times to make it for him. I kept up the whole, "I will... soon" for a good 6 months. I couldn't let him leave without making it for him. I told him I would and I refused to let him leave and remember me as the liar that never made his damn cake.

Topped off with powdered sugar: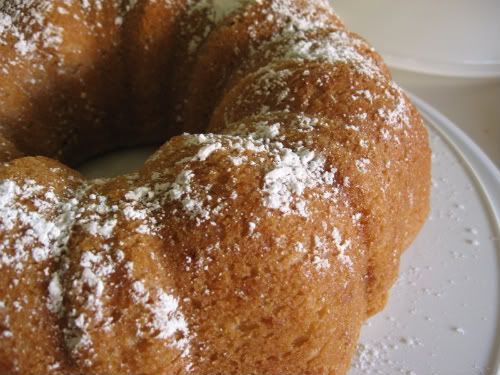 He was so happy. I told him since no one did anything for him he shouldn't feel the need to share (bitchy of me?) but he shared anyway. Now the whole store wants me to bring in cake on a regular basis.

Breakfast Grits, Day 1: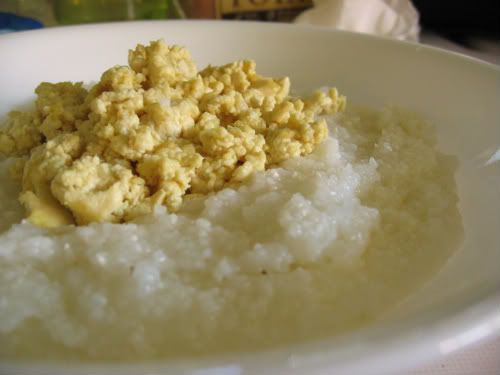 I haven't had grits since I lived at home. I don't know why I waited so long to make this! My mom use to make grits for breakfast all the time! My mom is in town right now and I got to hang out with her a few days ago. Since then I have been thinking about her a lot and I remembered how she cooked grits and eggs for the whole family (me and my 9 brothers and sisters) on a regular basis. Since I don't eat eggs now I made

tofu

to go with it (I'm out of green onions unfortunately, but it still came out good).


Grits, Day 2: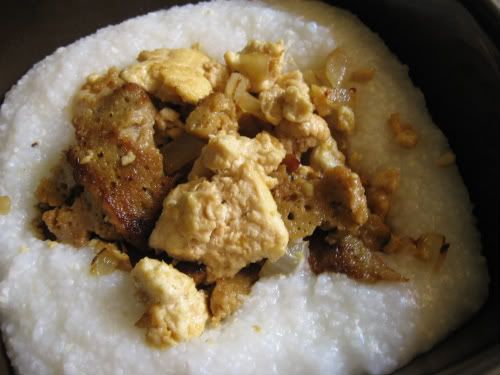 I kicked it up a few DOZEN notches this morning when I had this. I topped my grits off with a super delicious teriyaki tofu/seitan scramble. I could honestly eat this every day! It was super simple. all you need is:

-1/2 tub tofu
-teriyaki sauce
-seitan (I made the Simple Seitan from Vegamonicon)
-1/2 cup chopped onion
-Vegan magarine
-nutritional yeast
-bit of salt/pepper

I don't have exact measurements, I threw in about 1 tbsp of each. (except onion and salt) It came out really good. I highly recommend it.



Veggie/Seitan Stir Fry: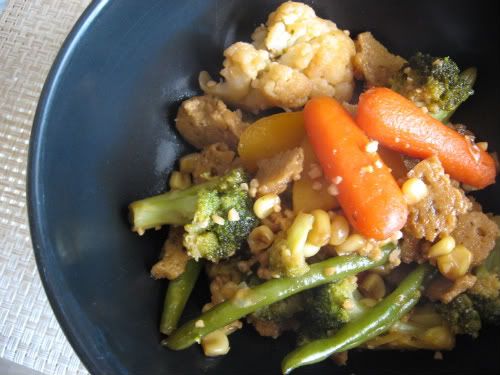 In September my roommate and one of my best friends is moving to CA. This does not make me happy, but I am happy that he is finally graduating and getting out of Vegas once and for all. So, when he moves I will be moving in with the other best friend Joelle and her boyfriend. I went over to hang out the other day and brought some of the homemade seitan for her. (She's vegetarian) Her very un-vegetarian boyfriend took the seitan and whipped up an amazing vegan friendly veggie stir fry for us! It... was... so... DELICIOUS!!! He made sure to clear all ingredients with me before making it. (which was only 3 ingredients besides the veggies! Genius!)



Supa dupa tasty: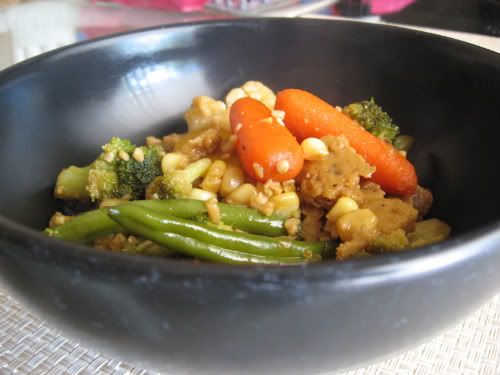 And last but not least...

Bumble Bar: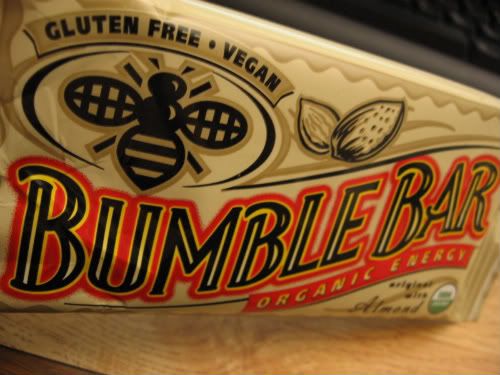 My wonderful friend Magda came to pick me up for the gym last week and brought me a little gift. I use to eat these like crazy and I hadn't had one in over a year. It's like they were somehow erased from my thoughts. I love these. Especially when I am running out the door and don't have time to make food for myself (which happens WAY too often).


And there we have it. My 50th post. I hope it wasn't too lame or boring for you. I also apologize for no real recipes in this post. I will make it up to you, I swear.

-Lee