-1 and 1/2 cup blueberries (I used frozen)
-1/2 cup sugar
-1 lemon
-2 cups all purpose flour
-3/4 cup vegan margarine
-dash of salt
Preheat oven to 350°
Take your lemon and cut off all of the peel leaving nothing but the insides and remove the seeds. In a food processor, combine 1/2 cup of the blueberries, the sugar and the lemon. Combine until blueberries and lemon have broken down and a sugary sauce has formed. Empty contents into a small sauce pot and add the other 1 cup of whole blueberries. Cook until the sugar is condensed and the sauce slightly thickens. Don't let it thicken too much. 7-10 minutes on medium heat should do it. Turn the fire off and let the sauce sit until you're ready to use it.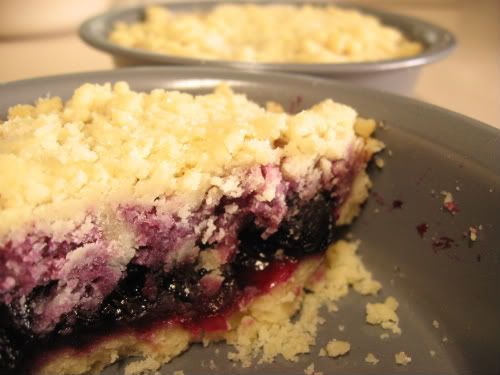 While that cooks down prepare your crust. Combine flour, margarine and salt and mix well. I used an electric hand mixture on the lowest setting and mixed until all of the flour and margarine has combined forming tiny dough balls (HAHAHA!!!) I used 3 mini non-stick cake pans. Layer each mini pan with a not too thick layer of crust along the bottom and about halfway up the sides forming a bowl. Pour your sauce in your pan and top it with crumbles of the crust. Sprinkle a little sugar on top of each pie.
Bake for 20-25 minutes and enjoy!