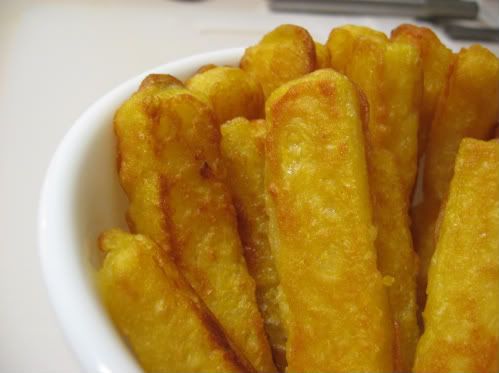 This was my first attempt making polenta fries. I have heard nothing but good things about them and I absolutely love polenta so I figured I'd wing it and see how they come out.
NOT EVEN KIDDING... THESE WERE LEGENDARY!!!
I doubt I could top the flavor of these. I feel so bad that I didn't get the chance to share with anyone. I'm home alone! These were so amazing that no sauce was needed... at all! I was smart enough to write down the recipe as I went along. It was fairly simple. If any of you have good polenta fry recipes I would love to try many different ways of making this. I have found my new favorite side. (even more than my
KALETATOES
!
-1 tube of ready made polenta (I got mine @ Fresh and Easy)
-1/2 cup flour
-1/4 cup nutritional yeast
-1/3 tsp dry mustard
-1 tsp sea salt
-1/2 cup + 1-2 tbsp water
-1 crushed/grated/minced clove of garlic
-1 tsp hot pepper sesame oil (optional)
-oil for frying (I used olive oil)
Cut your polenta into thick sticks and set them in the fridge until you are ready for them. Combine the dry ingredient and mix well. Then add the water, garlic and sesame oil (or any spicy oil that you have... or don't add any) and mix well so that there are no lumps.The consistency of the batter should be a little thinner than pancake batter. I used my electric mixer, so if you have one use it.
Heat a small skillet. I used cast iron because it heats evenly. Add your oil to the pan. I only used a small amount of olive oil. Remove your polenta sticks from the fridge and dip them into the batter. Make sure you there isnt too much batter on the outside of your polenta sticks when they go into the oil. I lightly scraped the batter off so that there was a perfect layer on the outside. It may be tricky and messy though. Fry them until they reach the golden brown color that causes you to salivate.